Sorry, we no longer have any slots available for episode 1. If you are interested in being a backup, or applying for episode 2, please continue. Thank you.

———————-
Are you creative? Do you enjoy making short films with your friends and family? Have you always wanted to make a film, but you never got started?
Does that sound like you?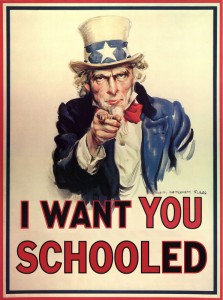 We're on the lookout for another Cincinnati area teen who wants to make their film reality come true, over one weekend, with the help of an experienced independent filmmaker, and a $150 budget.
The weekend for episode 1 will be:
Friday, March 25th through Sunday, March 27th, 2011
or
Friday April 8th through Sunday, April 10th, 2011
We start Friday evening, after school and work, ideally around 5 PM, and wrap up by Sunday evening before bedtime, ideally by 8 PM.
You must be at least 16 years old, have a parent or legal guardian as a chaperon, have at least three friends or family on your crew (not including yourself) who are at least 16, and have your own camera (can be your iPhone, or anything that shoots full video and sound).
Get your parent's permission, line up your crew, and email the producer today:
marcus@filmschooled.com
Do you know a teen who might be interested? Please share this link.
Questions? Call or text Marcus Adams at:
513-258-3885